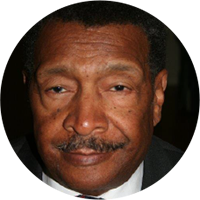 Education
Bachelor of General Studies Degree (Business Management) Univ. of Nebraska -1970
Master of Arts Degree (Major,Business Management) Central Michigan Univ. -1977
Certified Financial Planner — College of Financial Planning, Denver Co -1994
Employment History
1985 – 1998 Self employed Certified Financial Planner
1954-1982 United States Air Force
Civic Positions Held
President—–Alfonza W. Davis Chapter, Tuskegee Airmen Inc.(current)
Board of Directors – Great Plains Museum (current)
Board of Directors- Tuskegee Airmen Foundation (TAF)(current)
Board of Directors-Fontenelle Forest Nature Association
First Vice President- Tuskegee Airmen Inc.
President——Tuskegee Airmen Inc., Central Region
Chairman—–Bellevue Planning Commission
Chairman—–Bellevue Schools Vocational Advisory Committee
Chairman—–SAC Federal Credit Union Board of Directors
President elect-Bellevue Offutt Kiwanis Club
Vice President——National Association of Market Developers, Omaha Chapter
President——Fontenelle Forest Nature Center Camera Club
Board of Directors——Urban League of Nebraska Board of Directors
Secretary——-Financial Planning Association of Nebraska Board of Directors
Board of Directors – North Branch YMCA
Asset Allocation Committee – United Way of the Midlands
Professional and Civic Contributions
Financial Planning seminars conducted throughout the metro area for 20 years
Adult Education Classes through Metro Tech (personal financial planning)
Periodic Financial Planning columns in The North Omaha Star, The Omaha World Herald, The Bellevue
Leader, The Offutt Air Force Base Air Pulse and the Chicago Sun Times.
Memberships
Life member – NAACP, Urban League, Veterans of foreign Wars, American Legion, The Retired Officer's Association. And Tuskegee Airmen Inc.