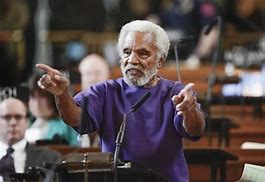 Ernie Chambers Sr.
Ernie Chambers Sr. is an American politician and civil rights activist who represented North Omaha's 11th District in the Nebraska State Legislature from 1971 to 2009 and again from 2013 to 2021. He could not run in 2020 due to term limits. Chambers is the longest-serving state senator in Nebraska history, having represented North Omaha for 46 years. For most of his career, Chambers was the only nonwhite senator. He is the only African-American to have run for governor and the first to have run for U.S. Senate in Nebraska history. For years he was the only openly atheist member of any state legislature in the United States.
Chambers was born in the Near North Side neighborhood of Omaha, Nebraska, to Malcolm Chambers, a local minister, and Lillian Chambers. His father's family originally came from Mississippi and his mother's family originally came from Louisiana. He has six siblings, who were all born in Omaha.
In 1955, Chambers graduated from Omaha Tech High School. In 1959, he graduated from Creighton University with a B.A. in history, with minors in Spanish and philosophy. He attended Creighton University School of Law in the early 1960s and completed his degree in 1979. He refused to join the Nebraska State Bar Association, so was unable to practice law; in 2015, he explained his refusal on the grounds that he had earned the right to practice by passing law school, and should not have to pay the Bar Association dues as well.
In 1968, Chambers ran for a position on the Omaha School Board but was not elected. He also failed as a write-in candidate for the Omaha City Council in 1969. In 1970, he was elected to represent North Omaha's 11th District, replacing George W. Althouse, who had been appointed to replace Senator Edward Danner, who had died in office. During the election, a policeman was killed in a deserted house by a bomb. Two Black Panthers, David Rice and Edward Poindexter, were charged in the death. Chambers protested, as he thought the men had been framed by COINTELPRO.
First elected to represent North Omaha's 11th District in the Nebraska State Legislature in 1970, Chambers was reelected in every ensuing election through 2004. On April 25, 2005, Chambers became Nebraska's longest-serving state senator, having served for more than 35 years. He was not allowed to seek reelection in 2008 because of a constitutional amendment Nebraska voters passed in 2000 that limits Nebraska state legislators to two consecutive four-year terms. But the amendment permits senators to seek reelection to their office after sitting out for four years, and Chambers defeated incumbent Brenda Council in 2012 by a "landslide".
Chambers also ran for the United States Senate in 1988 as a New Alliance Party candidate. He petitioned to be included on the 1974 ballot for governor of Nebraska and also ran for governor in 1994, receiving 0.43% of the vote.
Born in Omaha on July 10, 1937, Ernie Chambers is the longest serving state senator in Nebraska history. Chambers graduated from Tech High School in 1955 and went on to study history at Creighton University, eventually graduating from Creighton Law School in 1979. He would serve in the Nebraska Legislature from 1971 to 2009, and again from 2013 to present. Ernie is responsible for many important policy changes in Nebraska, including changing state rules to ensure equal state pensions to women, ending corporal punishment in Nebraska's public schools, and eliminating Nebraska sales tax on groceries. Chambers also played a large role in helping end the Omaha riots in 1966 and became a well-known leader in the North Omaha community during this time. This commemorative designation would honor Mr. Chambers on Florence Boulevard from Ames Avenue to Sprague Street.
Record your visit to Ernie Chambers Sr. Drive!
To enter our giveaway for the African American History through Street Signs, click the button below to record your visit. Be sure to visit all the street signs!
Sign in/Register to record your visit!