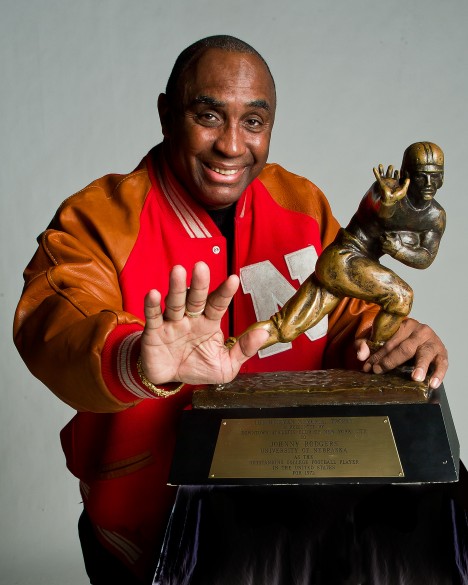 Johnny Rodgers
Johnny Rodgers is an American former football player. He played college football for the Nebraska Cornhuskers and won the Heisman Trophy in 1972. Rodgers played professionally in the Canadian Football League (CFL) with the Montreal Alouettes and in the National Football League (NFL) with the San Diego Chargers. He was inducted into the College Football Hall of Fame in 2000.
Nicknamed "The Jet" for his rapid acceleration and speed on the field, Rodgers was voted high school athlete of the year as a player for Omaha's Tech High.
As a player at the University of Nebraska–Lincoln, Rodgers served as a punt return specialist, pass receiver, and running back. Rodgers broke virtually every offensive team record, was twice named to the College Football All-America Team and won the Walter Camp Award and the Heisman Trophy in 1972 for most outstanding player in college football in the United States.
In his three years with the Cornhuskers, the versatile Rodgers established an all-purpose NCAA yardage record of 5,586. Former Nebraska coach Tom Osborne, who served as Nebraska's offensive coordinator in the early 1970s, wrote in his 1985 book More Than Winning that Rodgers had the greatest ability to return punts of any player he ever saw. Likewise, College Football News has described him as "the greatest kick returner in college football history." Rodgers returned seven punts for touchdowns (NCAA record at the time) and one kickoff for a touchdown in his college career.
Rodgers was, at one time, convicted of a gas station robbery while he was a student at the University of Nebraska in 1970. He is the only Heisman winner who had a then-present felony conviction before receiving the award. He was pardoned by the Nebraska Board of Pardons, and his conviction was vacated, on November 14, 2013. He later was charged with assault in 1985 while living in southern California.
In 1971, in what has become known as college football's "Game of the Century," Rodgers returned a punt 72 yards to score the first touchdown which set the tone for his team's 35–31 victory over the University of Oklahoma. ESPN describes Rodgers' performance as "unforgettable." However, some observers consider his greatest single performance to be in the 1973 Orange Bowl when he led his team to a 40–6 victory over Notre Dame. Rodgers ran for three touchdowns, caught a 50-yard pass for another touchdown, and threw a 54-yard touchdown pass to a teammate. He did all this before leaving the game with 21 minutes still to play.
1970: 39 carries for 219 yards with 4 TD. 39 catches for 710 yards with 7 TD.
1971: 40 carries for 269 yards with 2 TD. 57 catches for 956 yards with 11 TD.
1972: 73 carries for 348 yards with 10 TD. 58 catches for 1013 yards with 9 TD.
Johnny Rodgers is one of the greatest athletes to ever come out of the state of Nebraska. After graduating from Omaha Technical High School, Mr. Rodgers excelled in football for the University of Nebraska Cornhuskers, leading them to national championships in 1970 and 1971. Among several other accolades, Johnny Rodgers was awarded the Walter Camp Award and the Heisman Trophy in 1972 for the most outstanding player in college football. Mr. Rodgers was elected to the College Football Hall of Fame in 2000, in addition to being name the Most Valuable Player in Big 8 Conference history as voted on by The Sports Writers Association. After his playing career ended after several years in the Canadian and National Football Leagues, Johnny Rodgers has become a successful businessman, is involved in many charitable organizations, and has even authored a book. To this day, Johnny remains active in civic activities, his church and speaking engagements.
Record your visit to Johnny Rodgers Street!
To enter our giveaway for the African American History through Street Signs, click the button below to record your visit. Be sure to visit all the street signs!
Sign in/Register to record your visit!