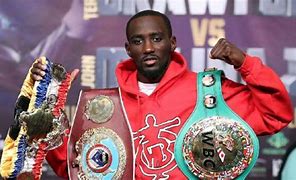 Terence "Bud" Crawford
Terence "Bud" Crawford is an American professional boxer. He has held multiple world championships in three weight classes, including the WBO welterweight title since 2018. Previously he held the WBO and Ring magazine lightweight titles from 2014 to 2015; and the unified WBA (Super), WBC, IBF, WBO and Ring light welterweight titles between 2015 and 2017.
In August 2017, Crawford had a short reign as the undisputed light welterweight champion, prior to moving up to welterweight. He was the first undisputed champion at light welterweight since Kostya Tszyu in 2004. Crawford also became the first male boxer to simultaneously hold all four major world titles in boxing (WBA, WBC, IBF and WBO) since Jermain Taylor in 2005, and as of June 2022 is one of only eight male boxers in history to do so.
As of May 2022, Crawford is ranked as the world's best active boxer, pound for pound, by ESPN, second by The Ring magazine and Boxing Writers Association of America, third by TBRB, and fourth by BoxRec. He is also ranked as the world's best active welterweight by ESPN and BoxRec, and second by The Ring and the TBRB. Crawford was named Fighter of the Year by the Boxing Writers Association of America in 2014, and by ESPN in 2014 and 2017.
Stylistically, Crawford is known for his exceptionally fast hand speed, ring IQ, punching power, counter-punching abilities and defensive skills, as well as his ability to comfortably switch hit from orthodox to southpaw.
Terence "Bud" Crawford, an American professional boxer, was born and raised in Omaha and grew up in a house on Larimore Avenue between 31st Avenue and 33rd Street. He comes from a long lineage of boxers, including his father, grandfather, and uncles who were all amateur boxers. Terence began boxing at the age of 7 and would go on to win 70 matches over his amateur career, including three gold medals in national amateur tournaments. He turned pro in March of 2008 and currently holds a perfect 32-0 record. Crawford is a former world champion in two weight classes and has received multiple prestigious honors, including Fighter of the Year from both ESPN and the Boxing Writers Association of America. He is a role model for much of the youth of Nebraska and operates the B&B Boxing Academy in Omaha where many troubled youth find refuge. This commemorative designation would honor Terence on Larimore Avenue from 31st Avenue to 33rd Street.
Record your visit to Terence 'Bud' Crawford Street!
To enter our giveaway for the African American History through Street Signs, click the button below to record your visit. Be sure to visit all the street signs!
Sign in/Register to record your visit!